The forklift was designed to lift and move things. By the very nature of its job, it must move forward and backward. (beep, beep, beep, beep, beep) Some enterprising genii in a government bureaucracy (OSHA, 1971) decreed that industrial and commercial trucks must sound a loud (level to exceed level of ambient noise in the area) and annoying intermittent alarm whenever it is in reverse (beep, beep, beep) mode. This applies to forklift trucks. (beep, beep, beep)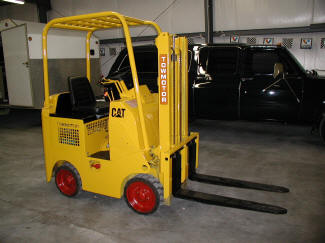 A block and a half from us is a small concern that makes and installs granite countertops. It is a very thriving business, inasmuch as Mrs. America has now discovered that she cannot live without this marvel in her kitchen. Guess how the materials are handled on this site. (beep, beep, beep, beep, beep) We enjoy our screened porch im(beep, beep, beep)mensely, but we could live without (beep, beep, beep, beep) that. We are in favor of the factory, though, as they are otherwise good neighbors, and they provide numerous jobs for workers in our community.
I was a forklift operator in a previous life, and prior to OSHA. No beeper, never ran over anyone. Most people who work in an environment where such known hazards exist pay attention to what they are doing. Those who are not so inclined need to be elsewhere. (beep, beep, beep, beep, . . . )
A very happy birthday today is my wish for my baby sister, Ilene!